So I know that Canada Day comes before Independence Day, but I am American first so I had to blog about that first. This was another first for me in Canada. We went to the Canada Day Parade @
Port Credit
. Let's just say for the small community it was an okay parade.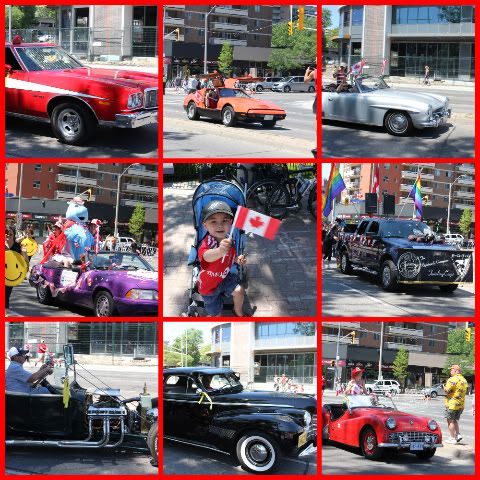 Maddox was sure that all of these cars were his friends. One he was sure it was Ramone, another was Doc Hudson, and I think he thought he saw Sheriff too. I spotted his silver convertible that he received when I got my new car, but I forgot to take a picture!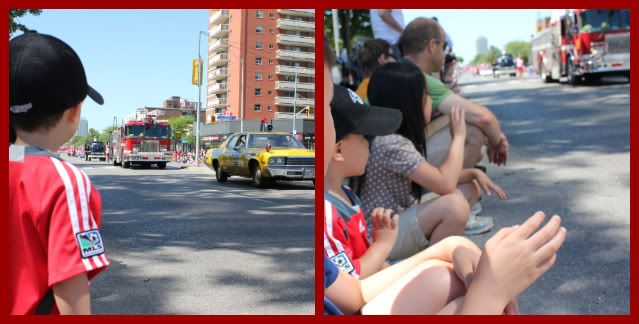 Waiting for Red...hi Red!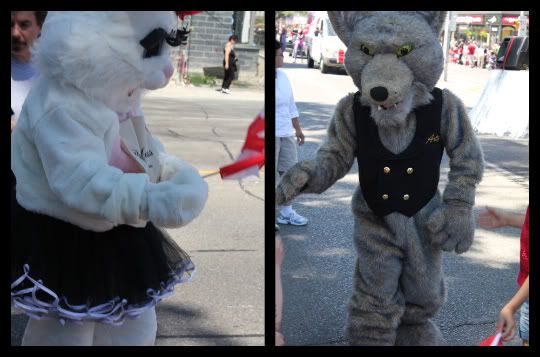 This one reminded me of a post on one of my favourite
blogs
. Little kids were getting their pictures taken with these giant stuff animals. You know what the sponsor was? An adult play store. Yep! Totally inappropriate.
Some of it rather interesting though.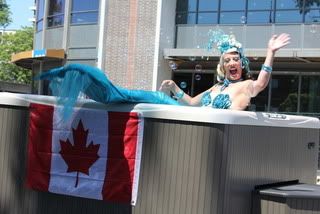 For instance a mermaid? I guess advertising spas. She was a hit with the peeps around us.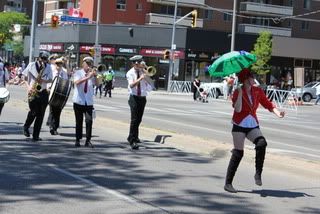 This was fun entertainment, but not quite sure the girl dancing with the booty shorts and the knee length boots (i
n the heat of summer?)
was thinking when she picked that outfit.
This was just random people dancing with music blaring from the trunk of a car. Not quite sure what they were promoting though. Crazy Canadian fun?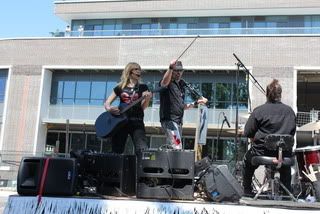 Canadians do have great music and this band lifted the mood better than most parading down the road.
Then we walked down to the
La Villa Bakery
and waited for the one and only Mike Holmes to cut the gigantic Canada Flag cake. We waited in the hot sun for probably 45 minutes, but at least they brought around watermelon and yummy Canada Day sugar cookies for everyone to enjoy. The cake? Actually not bragging or anything, but I like my cakes better. Then again maybe making a cake that big diminishes the yumminess of the cake. I should probably just try some from that bakery another time in order to pass further judgment on the cake.
Monkey fell asleep on the walk to the other side of Port Credit where they had activities for the kids. Bouncy castles, giant bumpy slide, and carnival food was exactly what was needed. My only problem? I forgot to leave the house with extra cash. So all I had on me was 16 dollars for food. That was using all of my coins too! Marcus chose boring pizza, McKayla picked delicious poutine (if you have never had it you are missing out!), and I picked an elephant ear.
Which was stolen from me by my children ugh
! I remember my dad making these. It was really good.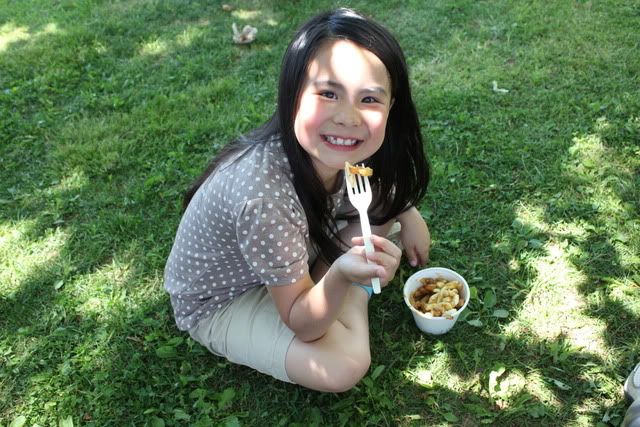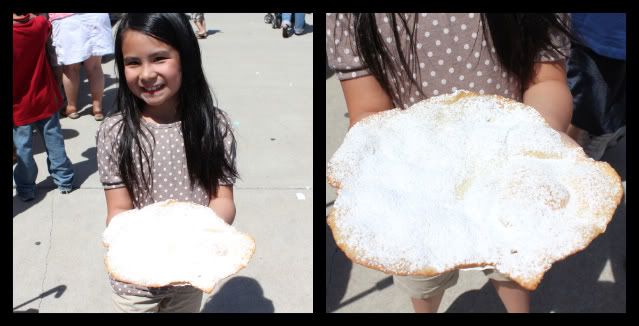 Finally the heat got to me and a headache started coming on so I gave the kids a few minutes at the overly crowded playground,
which was actually quite nice,
and then we walked back to the car.

I was extremely happy that I let the kids experience the celebration of Canada Day because well they are Canadian too. But I remembered why I never went before. Going to very crowded street celebrations alone with three kids is exhausting! I wish my hubby didn't have to work every holiday in the summer. Actually every weekend in the summer! I was also very happy I chose to go to Port Credit instead of
The Square
because while it was probably nicer with more entertainment and brand spanking new grounds I am sure it was 100 times more crowded. We missed the company from McKayla's dance studio perform. I actually had no clue where they were performing and when, but was hoping to catch it. Oh well.
Happy 143rd Birthday Canada!
Oh and the Duke and Duchess of Cambridge I did not see. They were in the capital Ottawa celebrating Canada Day.
Special side note loving her wardrobe. Very nice.
Can I just say I watched a couple of videos, but this guys opinion of Canada was similar to mine. I am not Canadian, but I love Canada so I celebrate Canada Day.