So here in Ontario we have a holiday in February called Family Day. Now the sad thing is there are a lot of people that actually don't get the day off because it isn't a national holiday. So instead people end up having to find daycare for their children on this day. The point is to make time for your family and do things together. Which is what I think we should do all year long not just around the holidays.
This year we actually skipped half a day of school on the Friday and drove 7 hours to St. Agapit to visit friends. The kids had a blast with their friends and even enjoyed the skating rink they had in their backyard.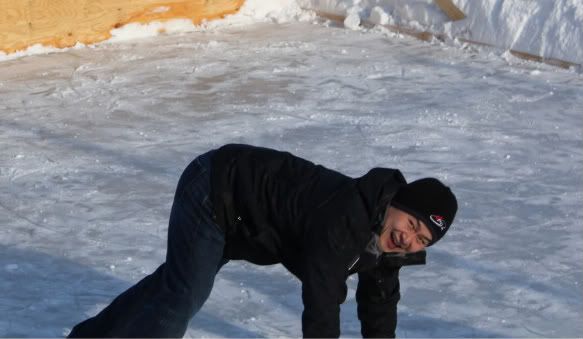 The picture isn't great because I obviously didn't have time to frame it before snapping. My hubby actually fell! It was quite funny. It wasn't even from him trying to avoid running into one of the kids.
Marcus actually had a lot of fun. It was the first time he actually tried to play hockey. He is so afraid of falling on the ice it was good to see him engaged in the gameplay. It helps that Henri is so athletic and is so comfortable on the ice Marcus really opened up to playing.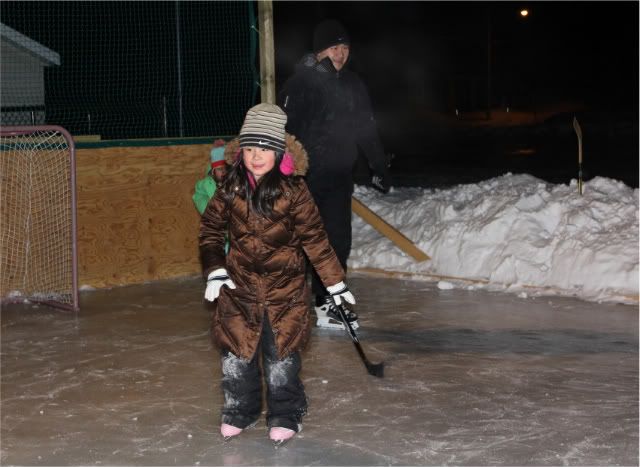 The boys played hockey and the girls went to the horses. I never went to the horses because, well I could barely stand in the snow and take pictures!
In the evening everyone went out to skate again this time McKayla enjoyed trying to learn how to skate backwards. Julie figure skates so was giving McKayla pointers on what to do.
Maddox even took to the ice. The first time and he didn't really know what to do, but hey he stood by himself! Every time he tried to skate it was at full speed and he would fall down. Luckily he is tough and it didn't bother him too much.
Here is a video of the boys playing hockey against hubby and then the girls joining and Maddox stepping on the ice for the first time. I don't know why I didn't get video of the races, but before we went in for dinner the boys raced the girls doing different relays. The girls pretty much smoked the boys. They kept making up new races with new rules to create a way for them to win. Oh and the music you hear is being played from speakers set outside from their computer. "Playing with the boys" Now I have it stuck in my head!
Luckily the weather was sunny despite the strong winds we spent a fair bit outside. McKayla was able to ride the horses again. She was thrilled! She even had her first lesson as she tagged along with Henri and Julie. Marcus is not so interested in the horses. He is actually allergic to them and has a real rough time trying to concentrate when he is sneezing and rubbing his eyes. Marcus even participated in a swim meet the Saturday morning at the University pool in Quebec City. It had been a while since he stepped into a pool like that,and despite being put with the older group he did well. Made me realize I really have to enroll both of them in swimming in the fall.
Me? Annoyed because this is when my back was completely thrown out and I barely had the strength to do anything. In fact, the drive almost killed me sitting in that same position for so long. We wanted to go into Quebec City and do some things there, but I really don't think I could have made it walking around everywhere. Oh well, inspires me to try to make another trip up there in the summer.
We ate our fair helping of
poutine
(I know I have a picture of it somewhere. Must be on my hubby's phone) and more cheese than anyone should ever eat.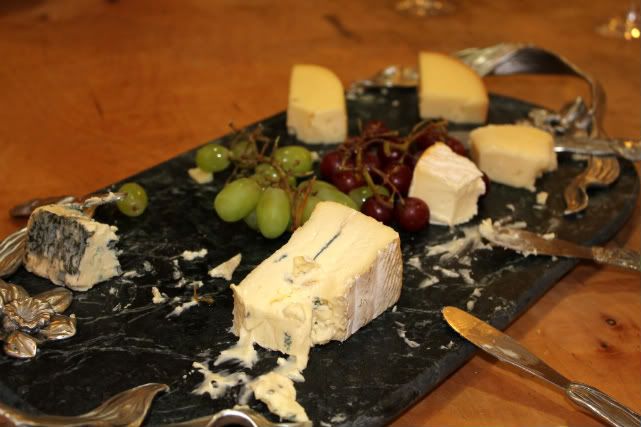 The kids made homemade pasta for the first time. Maddox loved it!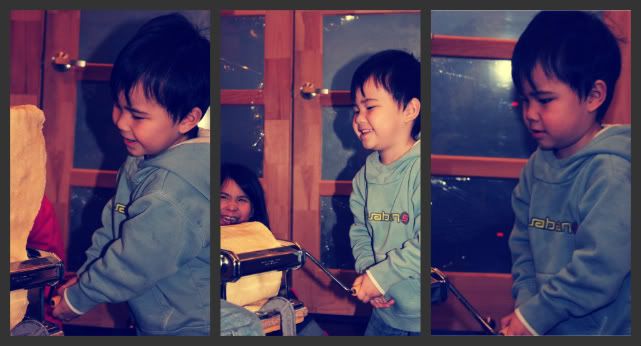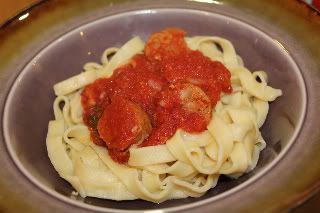 The end result? Yum!
We headed back on Monday morning. Quebec doesn't recognize the holiday so back to work and school for our hosts. Visiting them is definitely always an adventure with so many different things going on you can never have a moment to be bored. It is awesome.
For us our extended family includes all of our great friends who we can enjoy each others company and have a blast with. When you live so far away from your family good friends are the key to happiness. They are also a relief from stress when they bail you out at the last minute and show up to lend a hand.