So I know I am still playing catch-up. Trying to do two posts at a time to mix-up the old and new. Things have been busy on my end. Between spending some days at the school helping out my kid's teacher's to fulfilling my church obligations to keeping my house spotless at all times in case someone happens to call and want to view it. Keeps me pretty busy. Enough with the excuses.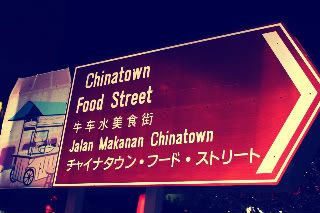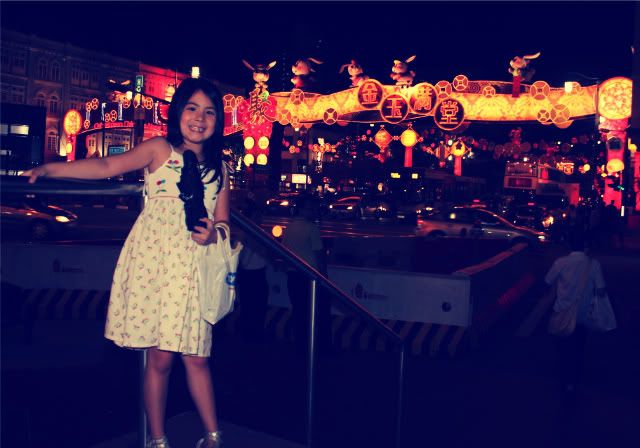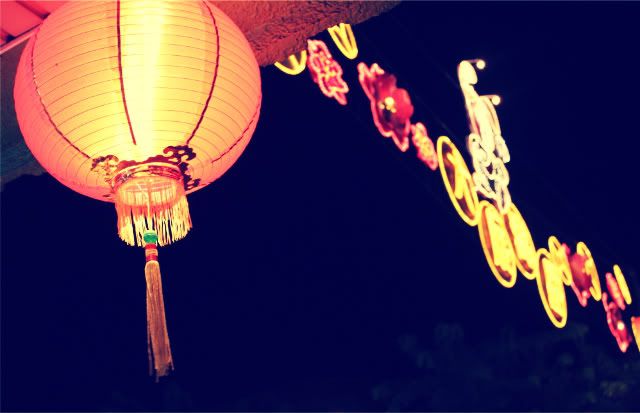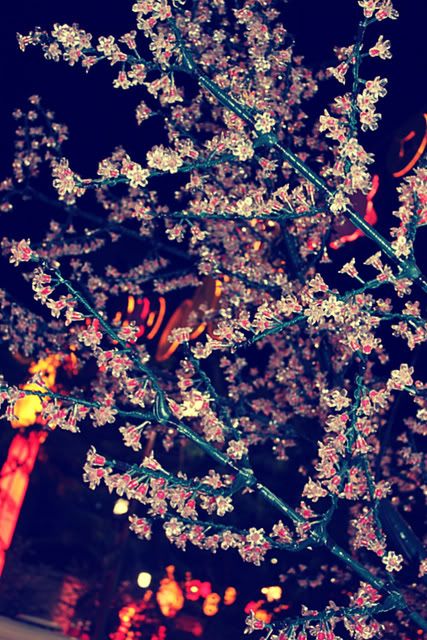 All the trees were decorated so beautifully.
McKayla and I had an extra day in Singapore when my hubby left on a jet plane with Marcus first. (Maddox was with me too, but he didn't have all the fun McKayla and I did) We spent the afternoon shopping. Yes! because as I posted before shopping is one of the best things to do in Singapore. Next to eating which we did a lot of too!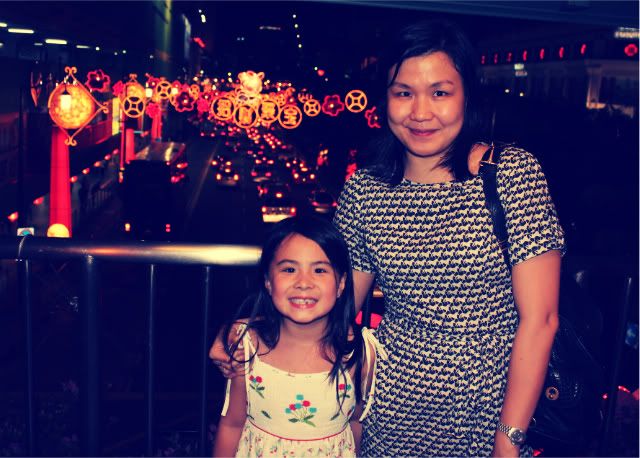 In the evening we met up with my sister-in-law in Chinatown which was preparing for the upcoming Chinese New Year celebration. This year we couldn't spend it in Singapore because kids gotta be in school and all. McKayla though, had to go and see all the lights and decorations. It was a must. She wasn't disappointed. Between the lights everywhere and beautiful bright colors she was mesmerized. I was too actually. The night market opened up as we arrived with vendors selling all kinds of great things.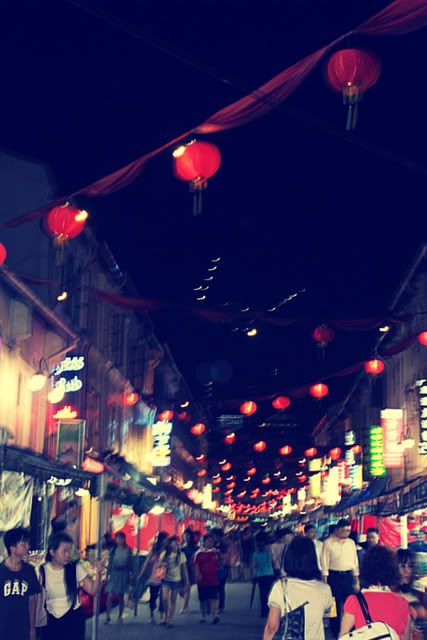 This one came out blurry. Probably because I was walking and didn't have on my flash. I forgot to take another one because I was too busy looking for great things to buy!
I actually am a little bummed I didn't go for this ring that I saw which was stunning. Some vendors weren't opened yet and I am sure when it is closer to CNY it is better, but there were still some great things to pick up.
Check out this Hindu temple. I have always thought it was beautiful with all of the colors and figures.
McKayla picked up some gifts for her best friends and received some new shoes from her Gugu (my sister-in-law). We got some great photos. Even McKayla was taking some pics.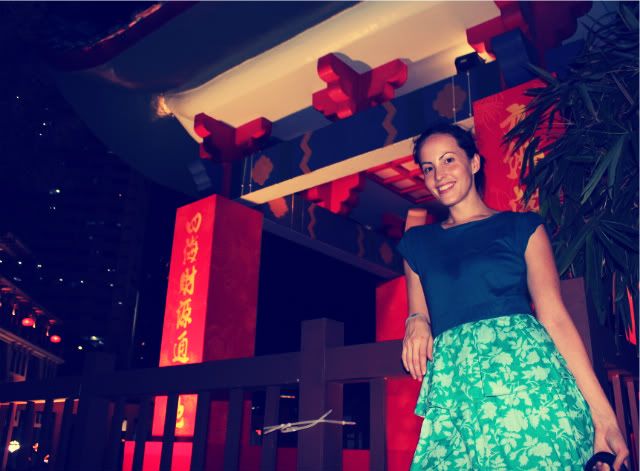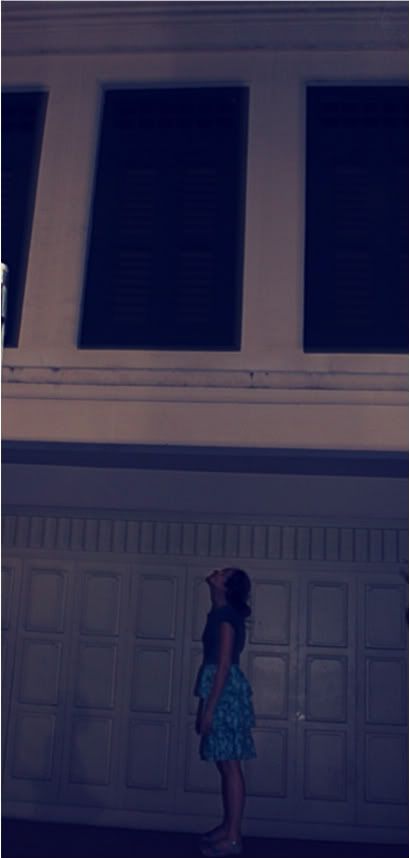 She had so much fun she told me she really needs a camera of her own. Which she has since obtained.
I gave her one of my old cameras.
I have to admit it was nice to go to Chinatown. We actually never go during Chinese New Year because I really don't like crowds, but because they were still preparing we were able to experience a little of what it must be like.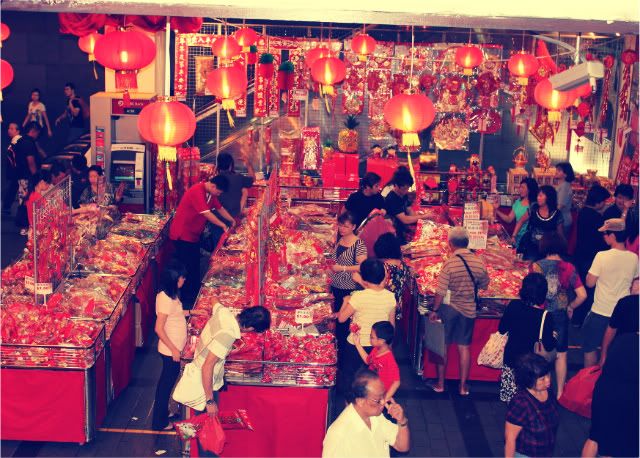 This is what shopping for CNY decorations looks like in Singapore.
This is what we get at Wal-mart. One side of a short aisle in the seasonal section. I guess I should be happy to get any sort of resemblance of CNY here. This pretty much sums up the difference between celebrating here and celebrating there. We did have friends over CNY and ate some great food with great company, but you don't quite know what you are missing until you spend it in Asia. Plus, the kids didn't get their red packets this year. Marcus is old enough to know what that means.