Okay. SO I know I got excited about New Years and completely skipped Christmas so here is my Christmas post. We had a beautiful Christmas. The kids opened their gifts we got them in Canada which was lots of books and a Woody
doll
I know, but I can't think of another way to describe it.
It isn't very manly sounding, but he is a kid and he loves it although he wanted Jesse more. Hubby would have none of that! I am actually proud to say we really never go overboard with gift buying for them. They tend to get just a couple of things to enjoy and then they get spoiled by grandparents and aunts and uncles.
So anything they got as far as presents came from friends and relatives here in Singapore as well as Santa of course.
I was actually thrilled that on Sunday we had a beautiful musical Christmas program for Sacrament. I definitely felt the spirit of Christmas and the joy of knowing that because of the birth of Christ and his life here on earth our life has meaning and purpose. I also love singing Christmas carols. Who doesn't? Well maybe the Grinch, but that changed when his heart grew. That made me think. My heart grew with every child I had. I know that sounds strange and those who don't have kids or who only have one and think they can't possibly have more room in their heart for another one they are missing out because it is true. Your heart does truly grow. Even my hubby said after we had our daughter I don't think we can have any more because I have no more love to give. Well his heart grew too. I know another sappy post. I can't help it. I love this time of year even if I m in a tropical climate with a tree made for a smurf. I love it!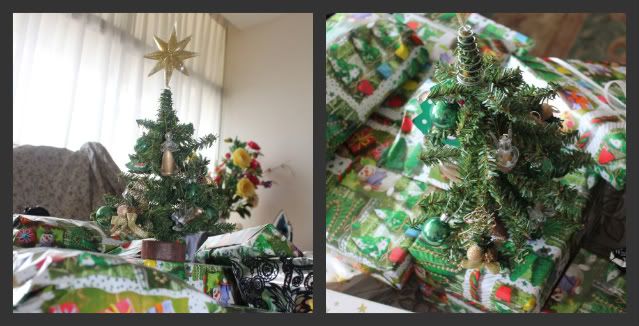 Back to Christmas. The kids partied it up singing karaoke on Christmas Eve with the grandparents. Who, by the way, go out and party with their friends more often than I do and can do it more nights in a row than I can. Meanwhile my sister-in-law and I Watched a movie and ate some yummy mushroom risotto which she made. After we picked up the kids from the party because it was getting late we did the traditional one present opening on Christmas Eve which we always do.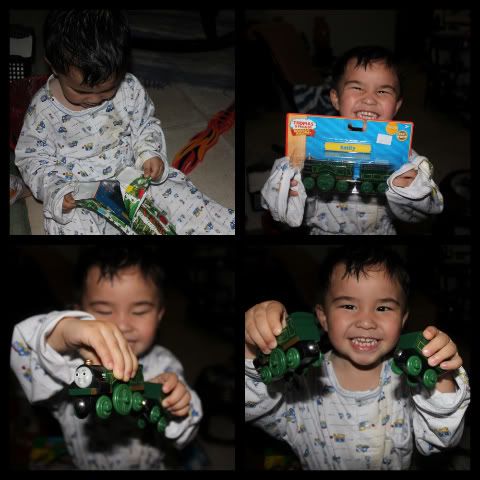 This year was special because it was Maddox's first Christmas in which he understood the meaning of what opening a present is like. He of course was thrilled to find a train hiding inside the paper.
You will also note the extra long pyjamas he got from his Gong Gong.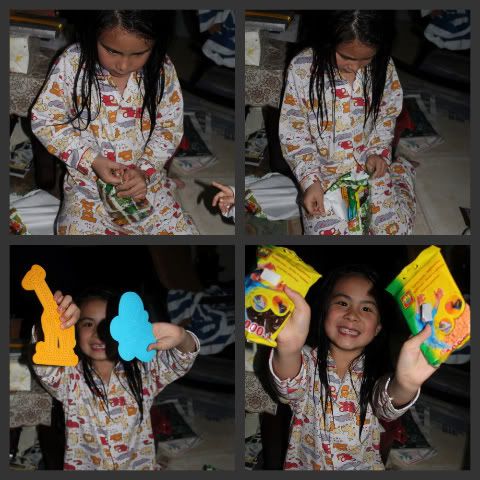 McKayla found arts and crafts which she was equally thrilled with.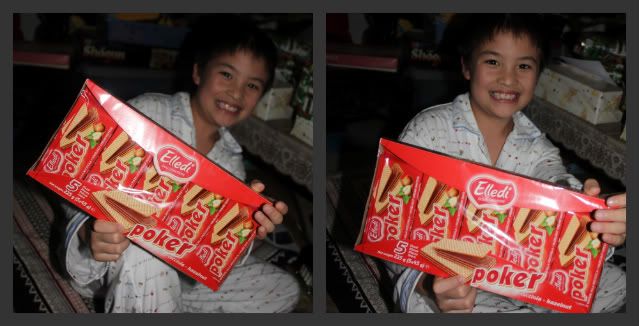 Marcus was a little disappointed that we talked him into opening this present which we knew would contain chocolate or cookies from a family friend. Although his smile doesn't show it. He didn't get a lot of presents this year, but that doesn't mean he wasn't going to be thrilled with what he got. He is at that age where the presents get smaller and smaller yet cost so much more!!! We wanted him to save the excitement for Christmas morning. I know kind of mean right?
Christmas morning came and to our surprise Santa visits Singapore. And McKayla was really happy Santa wasn't mad that she stayed up so late the night before.
Monkey got more of what he was dreaming about I am sure. He actually woke up Christmas morning instinctively knowing that more presents were to be found.
McKayla was thrilled to get her sewing kit which we played with literally until dinnertime.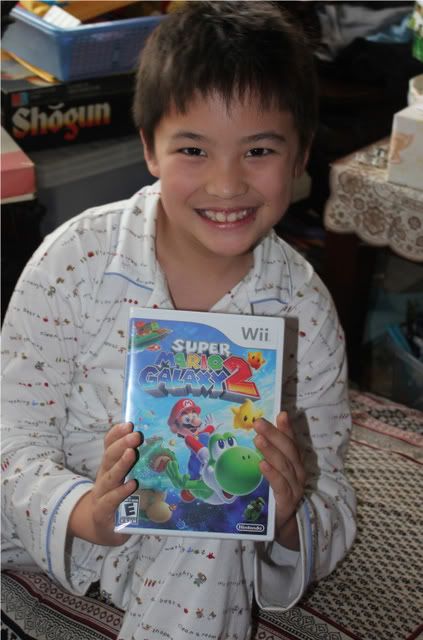 Marcus got the game he has been wanting since forever.
Afterwords more presents ensued.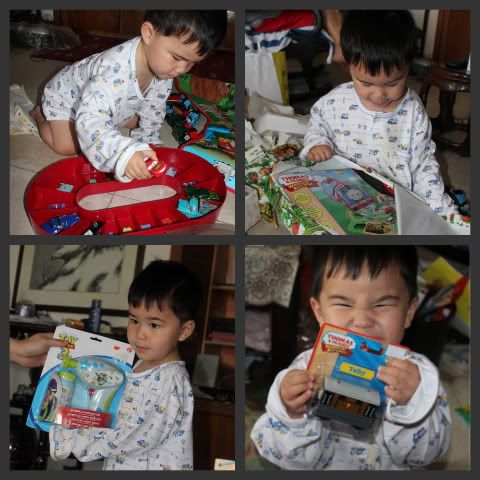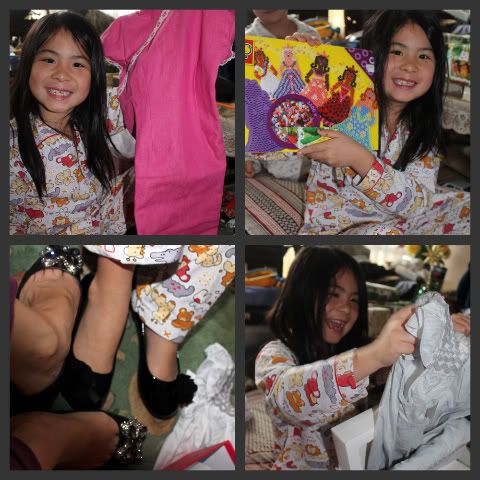 Marcus even received what?

No way! Spoiled guy. I guess all the puppy eyes he gave to his Ah Ma and Gong Gong worked!
For dinner we went to a friends house and had a feast. Christmas Day is also his birthday so it makes it twice as special. The kids got even more presents and we stuffed ourselves with delicious bbq ribs (yes the same ones my son really enjoyed the last time), sausage, deliciously moist chicken, noodles, and of course yummy Christmas cakes and desserts to top it off. It was wonderful and I think that even though it wasn't our traditional Christmas we spent it with family and good friends enjoying each others company which is by far the most important part of Christmas.
I remember my first Christmas I spent here in Singapore. I was so worried about how it was so different and it can't be hot and be Christmas. Or how without a big tree and traditional dinner it isn't the same, but I learned that those things are not as important as the spirit you bring to Christmas and who you spend it with. So now I am a reformed traditonalist, enjoying my life with my family which includes the occasional untraditional Christmas.