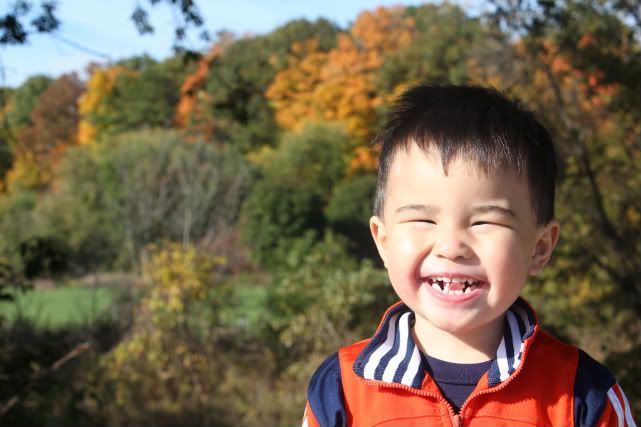 So weeks ago my kids had a cross country race. They trained for weeks and ran more than I think I ever want to run, but good for them staying heart healthy and building up some good muscle. I "booked" my husband to be off for the big race because my kids need encouragement from daddy. (He ran along side them.) Especially my daughter who has yet to realize how incredible she is and can become if she pushes herself. Last year she wanted to give up almost immediately and then with some encouragement placed 7th. This year she didn't train as hard as she could have. She admits to it. I told her not to expect a good as good a showing as the work that was put into getting there. I didn't realize teaching your children sometimes involved such philosophical discussions.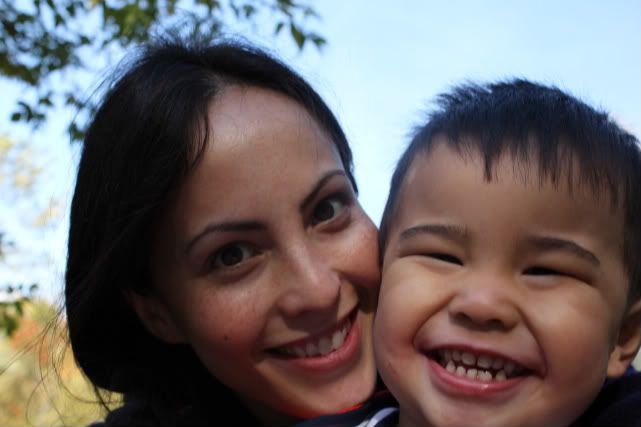 My son on the other hand worked hard. Not every practice, but definitely tried to get better. I think if the race was twice as long he probably would do a lot better because it seems like he can go on forever. He just isn't that fast. But if you knew my son you would know that he doesn't really mind that he isn't fast. Well maybe that isn't right. Let me just say this he has three favorite sayings. "It's okay." "I'm fine". and "sure". Let me just say until my daughter came along I thought I was going to go crazy because nothing seems to excite him. The complete opposite of McKayla who as you will see in my soon to come out birthday post of her is very expressive and gets overly excited about everything. Every once in a while you get a small little crack on the side of his mouth and you know that he is excited, but can't bring himself to jump up and down and show any emotion. Even when he is upset and cries it is very subdued and he goes into hiding.
So anyway back to the race. We went along and Monkey got into it too.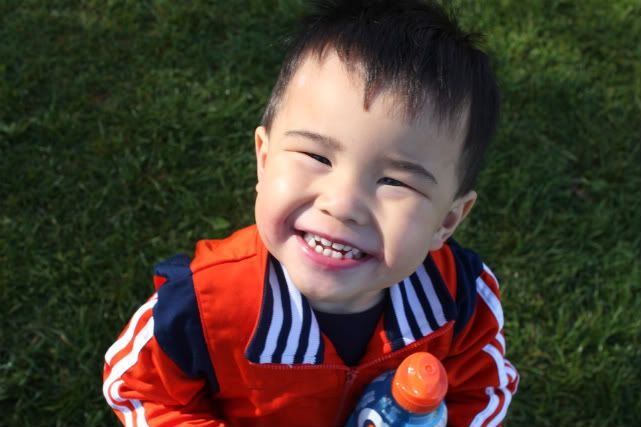 (I think he had a little too much gatorade that day!)
We ran along the credit river waiting for the race to start and took the opportunity to take some pics of our backyard. I say that because the race was being held in the park behind my house.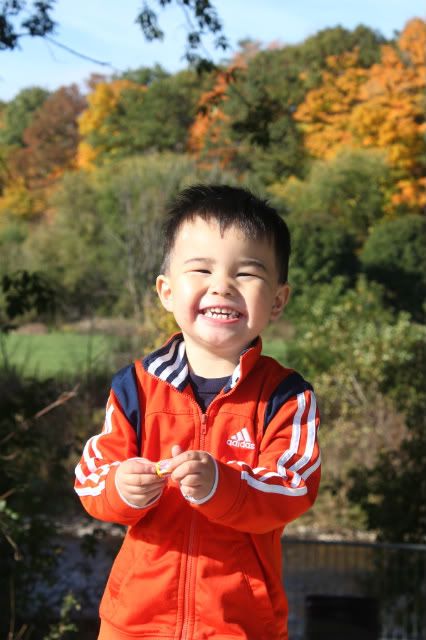 McKayla showing me her muscles before the race.
McKayla was in the third race with the rest of the grade two girls. She was ready I think there were 39 of them. I can't be sure.
Her goal was to stay close to her good friend Nika who is a great runner, but the run got the best of her and she just couldn't keep up, but I was proud she rallied in the end and past somebody almost catching up to pass somebody else.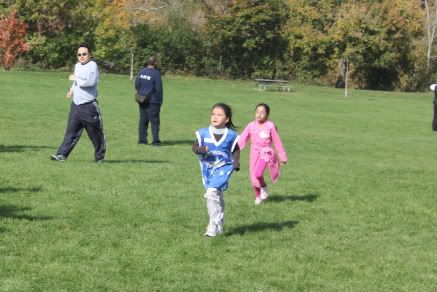 In the end she got a participant ribbon because she wasn't in the top 10, but she was happy she finished strong. As you can see she could barely put on a smile for me.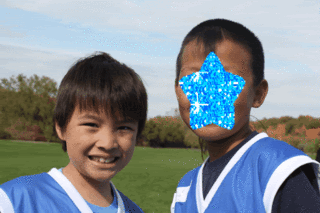 Marcus before the race. I distorted his good friend Jason because well I don't like posting kids that are not my own on my blog so he will be the star here seeing as he did really well in the race and finished the best from Marcus' school.

Marcus raced 8th with the other 4th grade boys. There were a lot of them too. There were I think 5 schools racing that day. As always with the boys the race starts with a massive sprint to get in front and then the pace slows a bit. Marcus had a prime spot with his good friend Jason, but when the race started I think he lost track of the line he was going to follow because he ran straight into people the had started to sprint. The race was tough and in the end he didn't get what he was hoping for, but he ran hard the whole way and finished strong. I didn't get an after pic because he went off with his friends.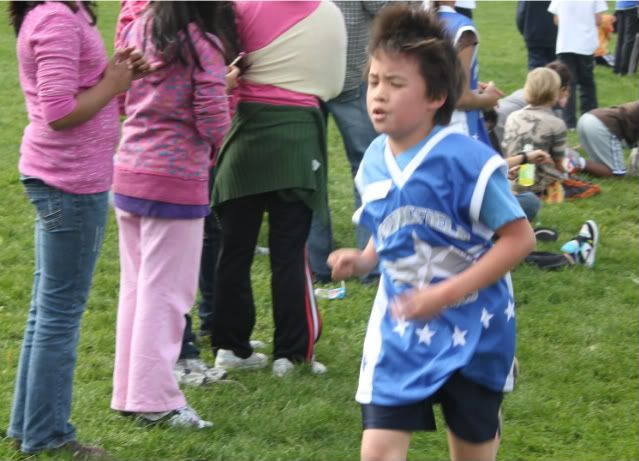 I learned something that day. I know I may be getting older, but I can still learn things. I think I would be a terrible soccer mom. I really was rooting them on and wanting them to do well. Part of me kept pulling myself back and saying hold on don't push too hard and the other part was screaming
run harder I know you can push more
!! I felt like I had a devil on one shoulder and an angel on the other arguing over who was right. I just tried to get the balance between the two. We as parents try really hard to push our children to be better and do better and reach their full potential. I just hope I don't push them to far or push them in a direction they didn't want to take in the first place. Hopefully I can be strong and guide them without imposing on them things that they in the end didn't want in the first place.
Today was piano lessons and I learned that my son has great coordination and can do things that are difficult for a lot of people. And that was natural no pushing on my part. I think we can find the greatness in ourselves when we let them find the greatness in themselves.,