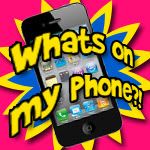 So super excited that this linky day got a button because, well I like buttons. I am really annoyed because the phone I am using here won't cooperate with me when I want to upload pics so I have to keep borrowing from hubby. So when we aren't together all those great pics aren't being taken!
So he took this one out of the airplane on the trip over.
Ebi and Hare Tonkatsu with Japanese curry and miso soup from Tonkichi!!! So yummy and I have been craving like crazy. I finally got to stuff my face!
After= completely devoured deliciousness. You definitely can't miss trying this!
Grab a button and go check out everyone's phone on Jessica's blog!