So on really our last fun-filled day in St. Agapit we tried to stuff a lot into one day. Horses in the morning, poutine for lunch, and then to the Chute in St. Agathe for the afternoon. (
As well as I made a chocolate cake for Mika. Her Birthday was on day three and no one told me!! So using my sister Stephanie's recipe I made a deliciously moist chocolate trifle cake.
)
The kids went on an adventure. Climbed up and over rocks and swam in the semi-cold water trying their best to get as close as possible to the waterfall. Monkey and I followed as best we could tag-teaming it up and around all of the rocks.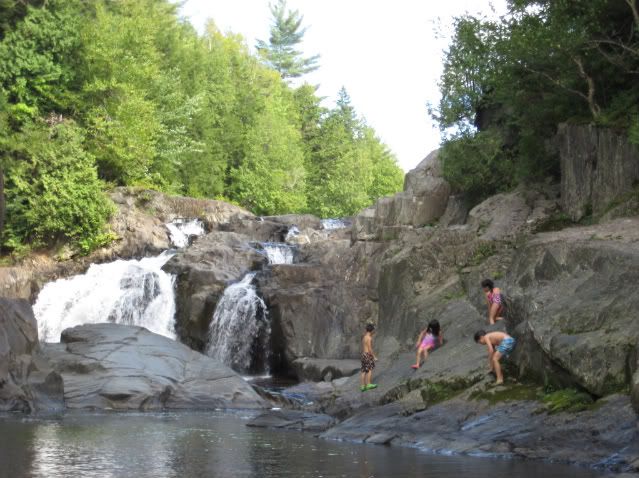 As Monkey and I tried to make our way there he was always ready to pose for me. I thought we had some great mommy and monkey bonding moments. He was really good to follow my instructions like "don't move", "stay right there", "be careful", "wait for mommy", etc.
I was really proud of him.
and then he had a little too much fun.
this is him about 3 seconds before he threw mud on me.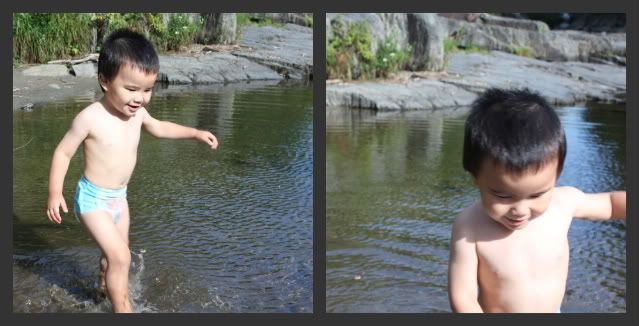 and yes I was wearing white and shouldn't have. We continued to have a mud fight, but he didn't like the mud being thrown at him. I wonder why?

The big kids climbed their way back to us and then we had our snacks by the edge of the water and were on our way home. I had to bribe them with the chocolate cake to give Mika and I some peace and quiet in the car!

mmm...I need another occasion to make it. Thanks sis it was really yummy!