Well the first day we rushed from Montreal to St. Agapit which is about 30 minutes from Quebec City. In 2 hours and 15 minutes we pulled into the driveway excited to be there on time to leave and get into the car again! We went along as our friend had a catamaran lesson at the beach in Quebec City. I really wasn't paying attention so I am really not sure what it was called or where we ended up exactly, but it was a lot of fun. If only the wind wasn't blowing so cold I would have enjoyed it more.
We brought swimsuits for the kids, but they were way too excited to get their feet wet they didn't bother to put them on. What a mess that turned out to be! I took so many photos on this trip I had to make a lot of collages so you could see more! In this first one you can see my friend Paul starting his lesson on the catamaran as well as Marcus running in and out of the water not even caring he was getting soaked. I think he enjoyed it most of all.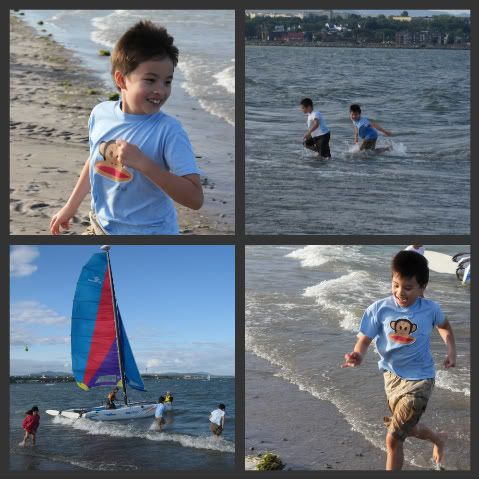 In this one McKayla tried to get Monkey into it by guiding him carefully to the waters edge. He would have none of that as you can see by the expression on his face.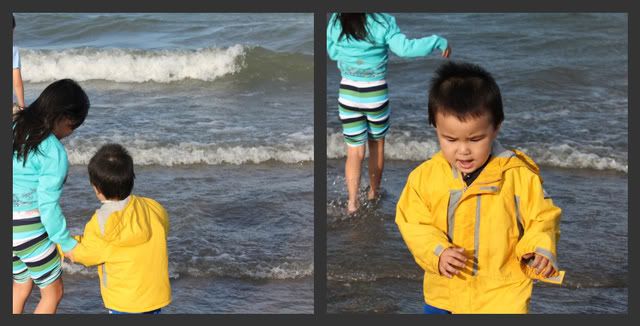 Instead he decided on his own terms to watch the crazy kids prance around in the water while he was smart and stayed dry. He did pose for a few pics which was much to my delight.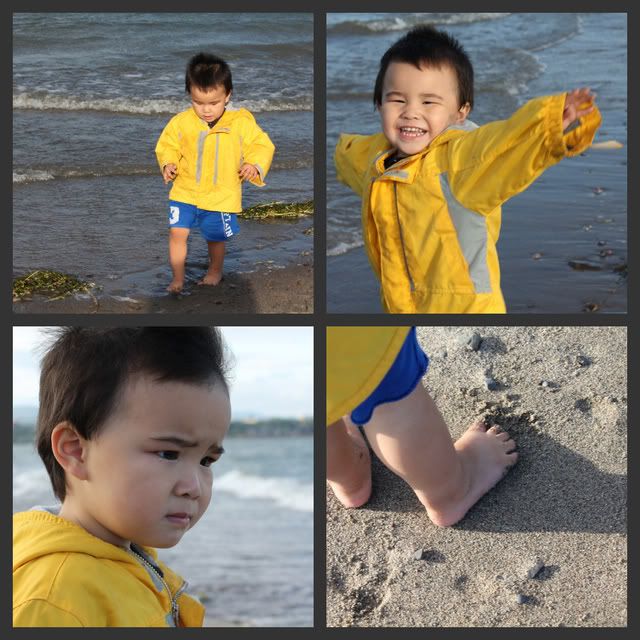 McKayla tried very hard not to get her clothes wet as she held them up as far as she could. In the end the waves got the best of her and she fell face first into the water getting soaked. She just laughed and continued to play in the water which is easier when you are already wet.

Our friends Paul and Mika, French Canadian and Japanese, have two kids age 8 and 6 whom the kids love to play with. They speak fluent French and Japanese and are learning English. Last time they saw each other not a lot of talking occurred, but this time they were chatting up a storm sometimes in French and sometimes in English. This first day though there was just a lot of laughing! Julie their daughter wasn't camera shy. In fact, she jumped in front of me every time I pulled out the camera, which I must admit was all the time!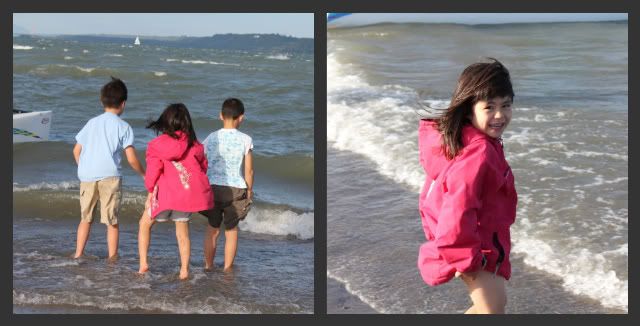 After Mika and I grew tired of the wind and were worried about the kids catching a chill we headed inside to dry off change into swimsuits (the only thing we had dry) and went to the playground. Probably the largest I have ever seen. As Marcus says, "It was really hard.". Trying to get through all the obstacles without falling and touching the sand proved to be difficult. My monkey enjoyed the slide, but soon grew tired of the fact that he was too small for a lot of the obstacles. So he resorted to chasing birds which he really enjoys anyway.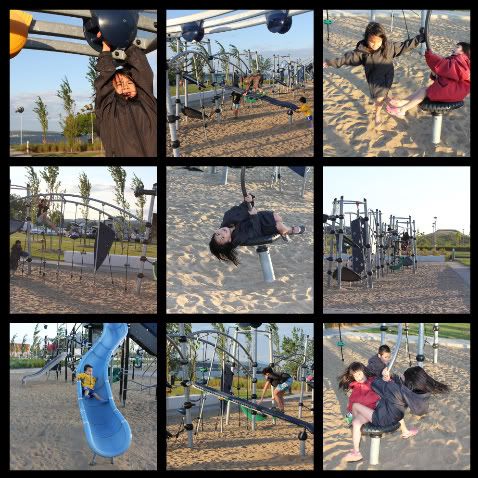 It was a good day. The kids really enjoyed themselves and I was happy I decided to make the trip all by myself.